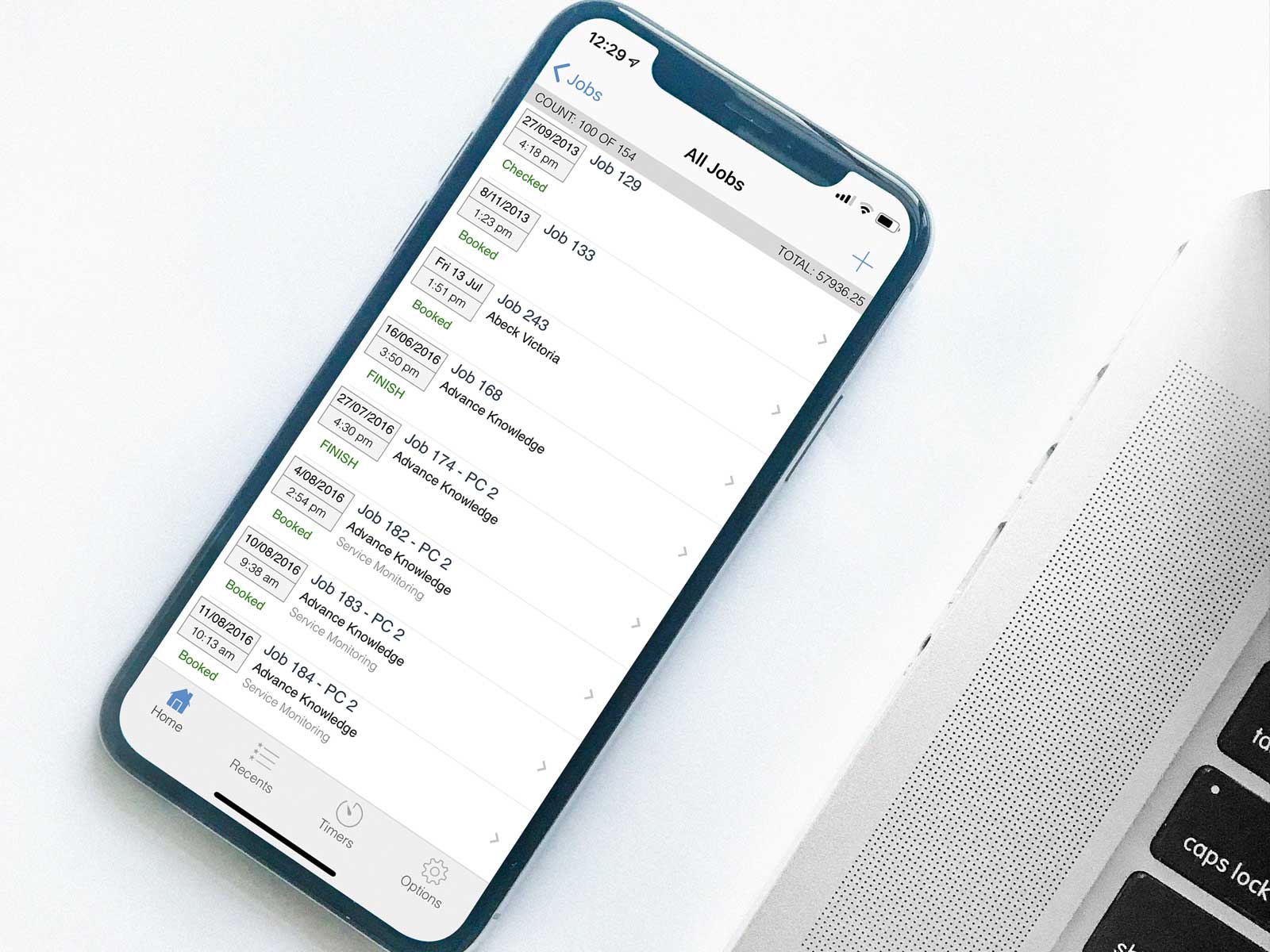 Access your Jim2 data anywhere, anytime from the palm of your hand with our sleek and innovative mobile app!
Perfect for outbound staff, Jim2 Mobile seamlessly connects with Jim2 Business Engine to drive real time workflow, streamline business processes, and connect your team onsite with live information.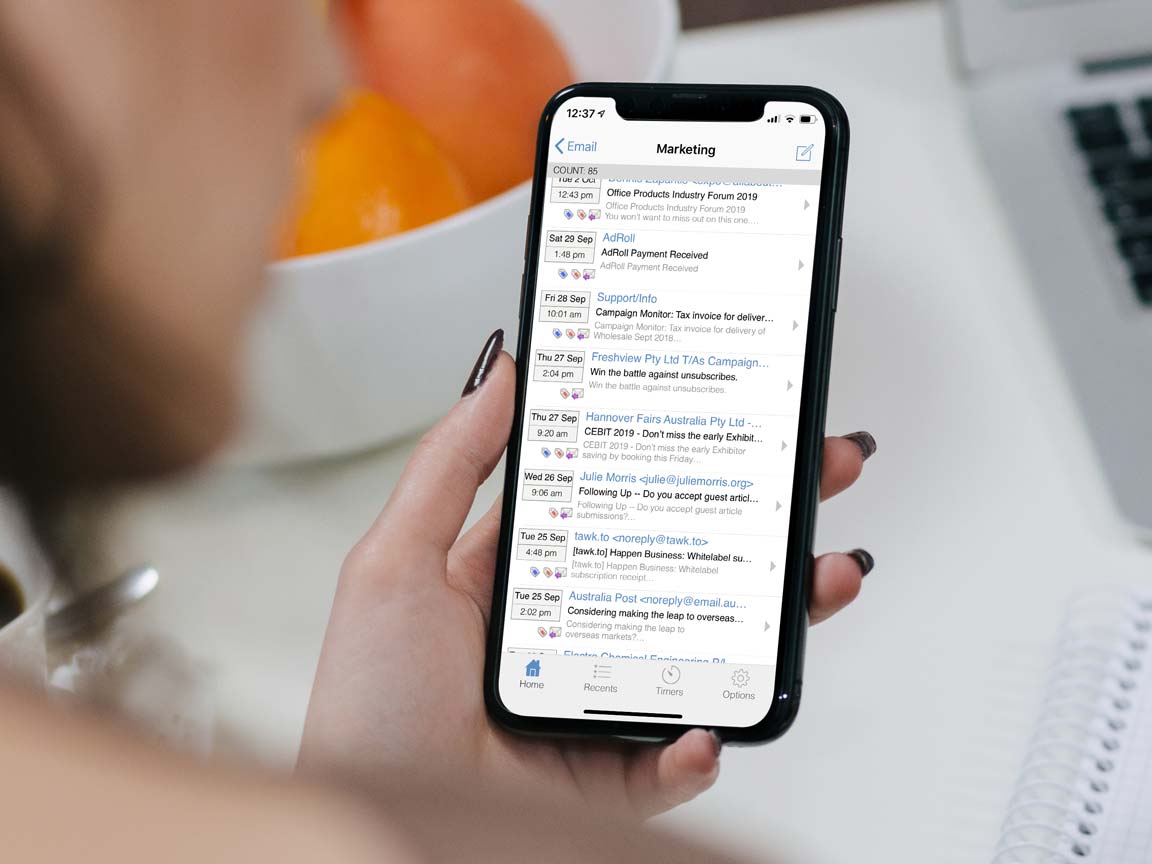 What you'll love about Jim2 Mobile
Instant access to key information! When your sales team visit customers, they can check stock levels live and build orders on the spot, without having to return to the office. They'll have customer information, documents, email correspondence and more all on hand, ready to take action then and there.
Jim2 Mobile is also ideal for your service team to update their jobs as they go. Labour timers can log each commute and time onsite. When they update their job with notes and photos, the paperwork is done and ready to invoice much sooner.
Jim2 Mobile's Features
Jim2 Mobile comes jam-packed with a whole lot of powerful functionality that you can take on the road with you so you can do business on the go.
Manage leads on the spot. Use quote lists to keep your finger on the pulse with live access to notes, stock availability, receiving and sending emails, brochures and supporting documents, and appointments while on the road. Find complete insight into your customer at your fingertips and view their purchase activity in one solution.
Assign, update, and manage service jobs live. Create lists to organise tasks in your workflow, and update notes, stock and labour on the spot. Track materials or stock, tests and checks performed onsite, and have information on all jobs logged for the customer readily available.
Easily keep track of your upcoming meetings, site visits and business appointments. Uncover a real time list of confirmed activities for the week, and even add new appointments instantly. View a colleague's assigned jobs for today, next week or next month, or view only select resources from Jim2 Mobile.
Jim2 Mobile Timers make it simple to track travelling to the next job, starting work onsite, or kicking off a meeting as it happens. Simply start, pause and stop a timer, and learn where time is being spent in your business.
Bring documents from shared folders, network drives and email accounts into one location in Jim2. Take a look at brochures, images, forms and manuals, linked to jobs, quotes, stock or CardFiles, and email helpful information to customers in seconds – all from your mobile.
Capture a client's signature on the spot, and see the newly signed document automatically saved in Jim2 with other sales and service information. Signable reports enable you to add onsite forms, signable quote acceptances and delivery slips to free your business of paper forms for good.
Business emails are completely managed within Jim2, and are found linked to the relevant job, customer, transaction and/or process. Since emails and mailboxes are accessible from Jim2 Mobile you don't need to wait to get back to the office to check your messages for the day.
Find complete customer and supplier information at your fingertips. Link tasks and jobs to CardFiles to keep all relevant information linked together and easily accessible. Find address details, map directions, transactions, notes, accounts, documents, emails and reports on hand and readily available.
Check current stock levels on the spot in real time via Jim2 Mobile, with options to select location, or only show what's in stock now. Plus, simply swipe to select and add stock in seconds, dramatically decreasing order entry time.
Incredibly fast, amazingly convenient. Simply scan Jim2 barcodes to search and open a job, quote, stock, project or Photocopier/MFD, in an instant.
Easily view Managed Service and Managed Print Service contracts, along with all related jobs, contract details, and billing and consumables status. Quickly create project-related jobs, including service tasks, and even Managed Print billing jobs!
Swipe right to add stock, swipe left to remove stock. Tap a job to open, tap edit to update it live, and always find your most recently opened items in 'Recents' in the main menu.
Which edition is right for you?
Once you've decided which Jim2 solutions are right for you, it's the perfect time to decide what functionality you will need! Check out our editions to find the one with the functionality your business will need.
Let's work together to empower your business.